MEN & WOMEN IN MINISTRY
Our family of churches in The Alliance Canada has given each local church a mandate to do their own study and give prayerful consideration to the roles of men and women in ministry. Many feel strongly about the topic, and hold different perspectives. Our goal as we approach this subject together is to do so with a gracious and humble attitude that honours God and honours one another. Although there are 2 main perspectives on this question – Complementarian and Egalitarian (also referred to as Mutuality) – there are many variations within the complementarian side.
Though we may differ as individuals in where we stand, our goal is to forward an opportunity to listen to differing views in a respectful and prayerful conversation.
There are many resources available on this topic. We hope the selection below is helpful. Though we're recommending these resources, we may not endorse all perspectives expressed – apart from those in Scripture, of course. If you have questions, we want to hear from you!
CONGREGATIONAL MEETING
The membership of Cornerstone will be invited to vote on the motion of approving women to be able to serve as elders at a congregational meeting on Sunday, October 1, 2023 at 7:00 pm.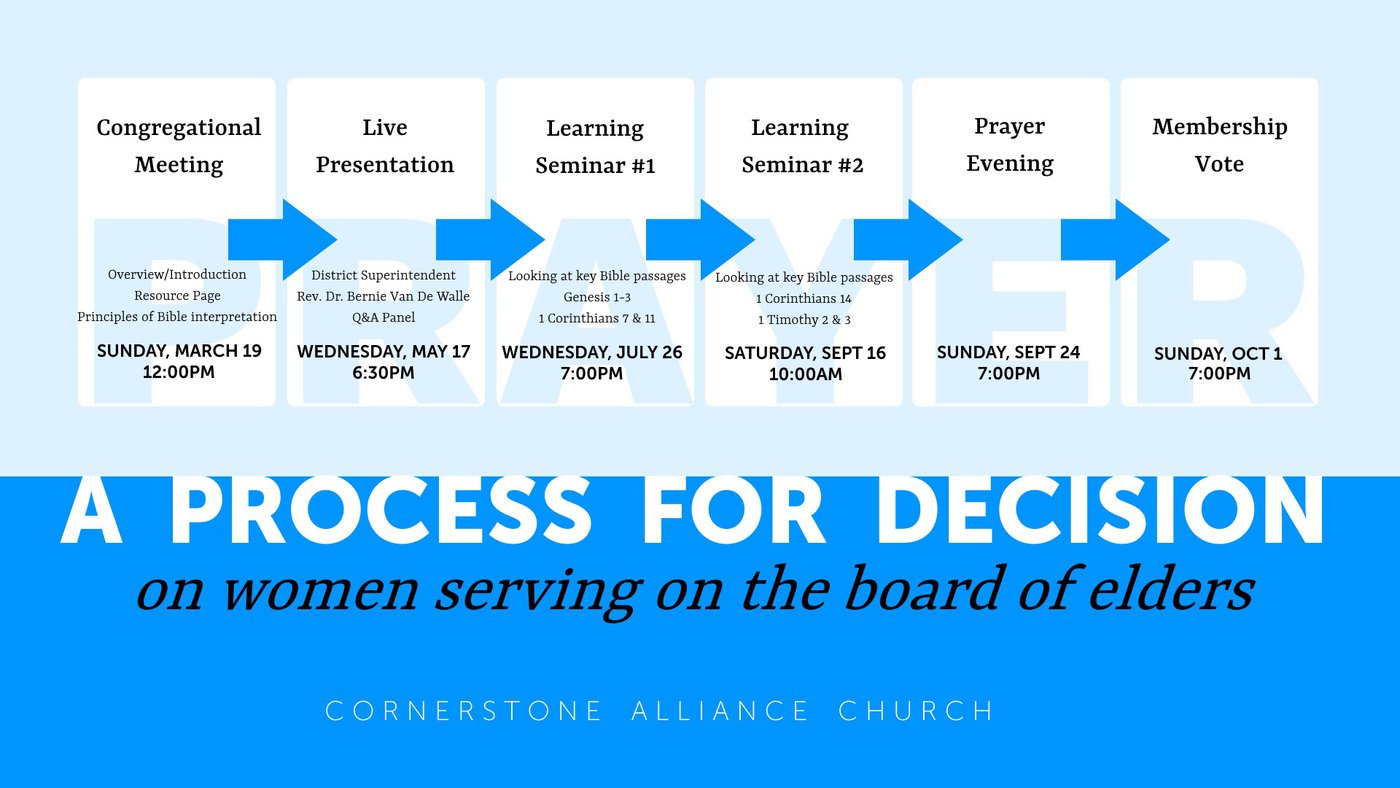 LIVE SEMINARS AND Q&A
#1 Introducing the question and principles of Bible interpretation Sunday March 19 at 12:00pm
The board will introduce the question and Pastor Joel will teach some principles of understanding the Bible.
#2 Join us on Wednesday, May 17 at 6:30pm for a live presentation by our district superintendent, Rev. Dr. Bernie Van De Walle.
At Cornerstone Alliance Church.
#3 Looking at key Bible passages. Wednesday, July 26
BBQ at 6:00pm. Seminar and Q&A at 7:00pm. At Cornerstone Alliance Church.
#4 Looking at key Bible passages. Saturday Sept 16
Brunch at 9:00am. Seminar and Q&A at 10:00am. At Cornerstone Alliance Church.
#5 An Evening of Prayer Sunday Sept 24
#6 Congregational Vote Sunday October 1 at 7:00pm
THE MAIN BIBLE PASSAGES
The Bible is our source of truth – so it's the first place we look for guidance. Here are some key biblical texts we need to consider and reflect on as we consider the roles of men and women in ministry:
In addition to these passages, there are the biblical examples of women who were prophets, evangelists, patrons, teachers, deacons, prayer leaders, judge etc. See here.
We've broken down further suggested resources into the following sections:
See below.
1. OVERVIEW
SUMMARY OF COMPLEMENTARIAN AND EGALITARIAN VIEWS
This summary is on the website of the Council on Biblical Manhood and Womanhood, which supports a complementarian perspective. The summary, though, is pretty fair in explaining the viewpoints of both perspectives. It can therefore be a helpful starting point in understanding what the arguments and explanations are for the 2 primary views. Click the blue SUMMARY button above.
Online Resources on the Differing Perspectives
Articles and podcasts available through these websites range from overview to very in-depth:
MORE RESOURCES